32nd Annual Daddy Daughter Date Night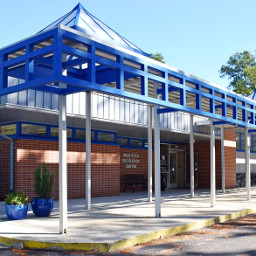 Dean Road Rec Center
307 S Dean Rd
Phone: (334) 501-2930
Hours:

M-F: 8AM-5PM

Elizabeth Kaufman
Therapeutic Programs Coordinator
Phone: (334) 501-2939
Email: ekaufman@auburnalabama.org
REGISTRATION IS NOW OPEN. REGISTER ONLINE!
Our 31st annual Daddy-Daughter Date Night was a blast! Thank you to everyone who attended.
Join us next February 2021 to celebrate 32 years of Daddy-Daughter Date Night fun. Our theme is "Sparkly Soiree". You won't want to miss this event!
The 32nd annual Daddy Daughter Date Night is going to look a bit different this year, but will still be a blast! We will hold TWO nights of virtual Daddy-Daughter Date Night on Zoom featuring the infamous DJ OZZ. "Sparkly Soiree" themed date night boxes will go on sale Monday, December 7th, 2020 and will contain items you can use during your Daddy-Daughter Date Night at home. Visit www.auburnalabama.org/parks to purchase your boxes starting at 8 a.m. on Dec. 7th. Boxes are $20/each.
The DDDN 2021 Zoom Nights are Friday, February 5th and Saturday, February 6th from 6:30-8pm each night.
The ticket purchasing link above will be activated on Monday, December 7th, 2020 at 8 a.m. CST. Click "Register Now" at the top of the page to be redirected to the registration site. Select the night you wish to attend for ordering.
Steps for registration:
Please read each step for the online registration carefully.
Create a free Active account (if you do not already have one).
Click on the "REGISTER NOW" button to be taken to the site.
Registration page: follow each step to complete the online registration form, waivers and make payment. The registration MUST be the in father/guardians name of the person accompanying the daughter/daughters to the event, NOT in the mother's name.
If more than 1 daughter is attending each additional daughter will need to be registered.
The online registration receipt is your ticket to the event.
NOTE: You CAN register more than one daughter for different nights in the same order. Multi-daughter discount will still work.
For more information contact Elizabeth Kaufman at 334-501-2939.
.
.
.
.
.
.
.
.