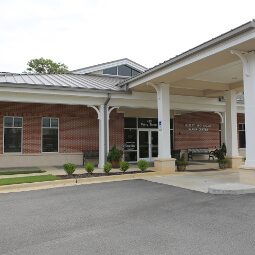 Harris Center
425 Perry St
Phone: (334) 501-2930
Hours:

M-F: 8AM-5PM

Ann Bergman
Public Relations Specialist
Phone: (334) 501-2936
Email: abergman@auburnalabama.org
LeisureLink: The City of Auburn's Parks and Recreation Weekly Newsletter
Week of October 19-25, 2020
Friday Fright Night at the Arboretum Oct. 23
Auburn Parks and Recreation and the Donald E. Davis Arboretum at Auburn University presents the 4th annual Friday Fright Night at the arboretum Friday, Oct. 23. Gates will open at 6 p.m., and a child friendly Halloween cartoon will be shown at 6:30 p.m. The first featured film, "Little Shop of Horrors" (1986 version), will begin approximately at 7:15 p.m. The second feature film, "The Rocky Horror Picture Show" (1975), will begin at 9 p.m.
Patrons are encouraged to bring blankets, chairs and a picnic dinner to enjoy the movies. Parking is available near the entrances on three sides of the arboretum: along Lem Morrison and the Poultry Science parking lot, along Garden Drive and the Arboretum parking lot off Garden Drive.
Masks will be required when entering and exiting the movie and if you leave your designated seating area. Attendees will not be allowed to stay if they refuse to wear a mask entering and exiting. You must fill out a contact tracing form. Designated seating areas will be marked to ensure social distancing.
The Davis Arboretum is located at 181 Garden Drive in Auburn. For more information visit auburnalabama.org/parks/events-and-calendar/outdoor-movie-series/.
Harvest Market and ABC Plant Sale at Town Creek Park Oct. 24
City Market will return for the Harvest Market at Town Creek Park Saturday, Oct. 24, from 8 a.m. to noon. The Auburn Beautification Council, the Jan Dempsey Community Arts Center (JDCAC) and the Auburn Arts Association will be joining Harvest Market this year.
The Auburn Beautification Council will hold their annual fall plant sale, and the Jan Dempsey Community Arts Center and Auburn Arts Association will hold registration for the JDCAC 2020 Pumpkin Decorating Competition. JDCAC and the arts association will also hand out FREE art kits to those who will participate in the competition. Artists will be bringing a variety of handmade goods along with fall-themed art and décor for purchase.
The vendors that will be joining us for the Harvest Market are:
Laura Barker - artist
Leslie Brasher - artist
Ruth Yarbrough - artist
Adrian Alsobrook - artist
Kelly Oslick - artist
Hale Farms
Hornsby Farms
Extreme Green Farms
George Family Farm
Heavenly Candy Brittle
Nellies's Southern Fried Pies
Epic Family Farms
The Chill Spot
Shana's Place
Pulliam Farm
Parking will be available for all market attendees in the gravel parking lot across from Town Creek Park. All market visitors must maintain a minimum of 6 feet between one another.
All vendors will follow the state sanitation guidelines regarding farmers markets:
Food samples will not be served, and cooking demonstrations will not be allowed.
Vendors will maintain a 10-foot distance from one another.
All vendors will wear food-safe serving gloves and will designate one worker to handle payment.
We recommend that vendors wear face masks.
All available products will be pre-packaged.
In order to allow the maximum number of community members to visit the market, loitering and social gatherings will not be permitted. We ask that you please purchase your products and promptly exit the parking lot for others to easily access parking spots. Animals will not be allowed to attend the market, and high-risk community members and those feeling ill should not attend. Mask are not required when a distance of six feet cannot be maintained.
We look forward to seeing everybody again at the Harvest Market while still enforcing social distancing and sanitation guidelines.
For more information regarding City Market, please contact Sarah Cook at scook@auburnalabama.org or visit auburnalabama.org/parks/programs/city-market.
Downtown Spooky Scavenger Hunt begins October 25
Are you ready to search for pumpkins? Grab the family and join Active Auburn and the Downtown Merchants Association for a Downtown Spooky Scavenger Hunt. The hunt will begin Sunday, Oct. 25, through Saturday, Oct. 31.
Active Auburn will hide a pumpkin at a downtown merchant location every day of the week leading up to Halloween. Each day at noon, a picture that contains a clue will be posted on Active Auburn's Facebook page. The first participant to physically find the pumpkin in person will receive a gift card from that store location!
For more information about the Downtown Spooky Scavenger Hunt, contact Sarah Cook at (334) 501-2948 or scook@auburnalabama.org.
Drive-Thru Trick or Treat Friday, October 30
Are you ready for a spooky Halloween parade? In order to adhere to COVID-19 guidelines, the City of Auburn Parks and Recreation Department will host a Drive Thru Trick or Treat in lieu of Downtown Trick or Treat this year. Grab your best costumes and all members of your household. The event will take place on Friday, Oct. 30, from 6-8 p.m. at the Auburn Parks and Recreation Complex (235 Opelika Road). We are asking that members of the same household ride together.
Participants must arrive in their vehicles at the Drake Avenue entrance and will then be directed around the Auburn Parks and Recreation Complex to get treats from City of Auburn employees, firefighters and members of the community! We are encouraging participants to dress up in their best Halloween costumes and decorate their vehicles in the spookiest way!
The week before the event, a map and directions will be posted on the City of Auburn website, Facebook and Instagram (@CityofAuburnAl). Individuals must remain in their vehicles at all times for this FREE outside public event.
For more information regarding this event, please contact Sarah Cook at scook@aubuarnalabama.org or 334-501-2948.
Jingle Jog registration going on now
The 2020 Jingle Jog is set for Sat., Dec. 19 7 a.m. at Toomer's Corner. Join Active Auburn for the merriest race of them all. Wear your ugliest holiday sweater to add to the fun.
Registration for the Jingle Jog 5k is now open to register please visit https://www.auburnalabama.org/parks/register/.
A schedule of registration fees is as follows:
Jingle Jog 5k:
Early Bird Registration: September 21 – November 23: $20
Registration: November 24 – December 14: $25
In order to be guaranteed a t-shirt, participants must register by Monday, November 30. A limited number of t-shirts will be available to late registrants on a first-come, first serve basis at packet pick up.
The Jingle Jog 5k will start in waves between 7:00 a.m. - 9:00 a.m.. When registering, please enter your estimated 5k time. Your start time will be emailed to you on December 17th. There will be NO day-of race registration. The Jingle Jog 5k will have awards for 1st – 3rd place in the following categories for men and women: Overall, 14 & Under, 15-19, 20-29, 30-39, 40-49, 50-59, 60+. Times will be posted and medals will be mailed out on Monday, December 21st. Routes for the 5k will be published at activeauburn.org, auburnalabama.org/parks and on the race website (https://runsignup.com/Race/AL/Auburn/activeauburnjinglejog5k). Packet pick-up for the races will be on Thursday, December 17th and Friday, December 18th from 8 a.m. – 6 p.m. at the Harris Center. YOU MUST PICK UP YOUR RACE PACKET PRIOR TO THE RACE.
*COVID-19 note: You will be required to sign a COVID – 19 waiver prior to race day. There will be NO day of race registration. There will be NO day of packet pick-up. All packets must be picked up prior to the race. Mask required prior to race start. 6ft between each runner will be marked for starting waves. No race day award ceremony. No spectators allowed along finisher chute.
For more information visit https://www.auburnalabama.org/parks/programs/active-auburn/ or contact Sarah Cook at scook@auburnalabama.org.
Holiday Art Sale Vendor Applications Now Available
The Auburn Arts Association, Auburn Parks & Recreation and the Jan Dempsey Community Arts Center will host their 14th annual Holiday Art Sale on Saturday, Nov. 14 from 9 a.m. - 2 p.m. This year's socially distanced sale will be held at Kiesel Park. Local artists will be selling paintings, pottery, stained glass, photography, cards, jewelry, hats, scarves and much more! If you would like to sell your work, applications will be available on the Auburn Arts Association website beginning Monday, Oct. 5. A limited number of exhibition spaces are available, so be sure to download your application and submit with a $50 booth fee! To download an application, please visit www.auburnarts.org and submit with your fee by Friday, Oct. 30. For more information, please contact Emillie Dombrowski, Art Education Specialist, at (334) 501-2944. COVID-19 note: Everyone attending the art sale must wear a mask while entering, exiting and shopping at the sale.
The Jan Dempsey Community Arts Center Pumpkin Competition
This Fall, the Jan Dempsey Community Arts Center (JDCAC) challenges the Auburn community to see who can create a masterpiece out of a fall favorite, the pumpkin with the JDCAC Pumpkin Competition. Entries will be accepted from October 1 through the 27th.
Inspired by this past summer event The Sidewalk Chalk Challenge, the Pumpkin Competition submissions must include a short description that includes the inspiration for your piece. Prizes will be awarded to the winners in these categories: Most Creative, Best Mixed Media Effects, Best Carve and Best Children's Work. Examples and ideas can be found at auburnarts.org. Entries
No entry fee is required and registration is encouraged. You can find a registration application by emailing edombrowski@auburnalabama.org or visiting www.auburnarts.org and www.auburnalabama.org/arts. Registration will also take place at Auburn Parks and Recreation's Harvest Market on Saturday, October 24th from 8 to 12 p.m. at Town Creek Park. Individuals, families, children and businesses may apply.
The JDCAC will be partnering with the Auburn Arts Association (AAA) on this competition. All pumpkin creations must be submitted starting October 1st and received no later than Tuesday, October 27th by 5 p.m. Judging will take place on October 28 and 29, with winners announced Friday, October 30th on the AAA's Facebook page. Prizes will be awarded. Guidelines and information as well as an application to participate is available on the AAA's website, www.auburnarts.org and JDCAC's website, www.auburnalabama.org/arts.
Yarbrough Tennis Center Updates
Ladies, do you want to play some fun doubles? Sarah Hill is helping to connect ladies that just want to play some doubles and have a good time. Send Sarah an email at shill@auburnalabama.org and she will help find you an opportunity to play some doubles.
Our USTA Local League Coordinator is offering a fun Flex League to get everyone back out on the courts with no pressure to win or lose, just to knock the rust off, catch up with old friends, meet new players and most importantly, have fun. The men will play on Tuesday nights at 6:30pm and the ladies will play on Thursday nights at 6:30pm. If there is an overflow of men or ladies, we'll look at adding Wednesday nights as a potential night to play. The hope is to start play by the end of September and we'll go for 5 or 6 weeks. The format will be one or two singles lines and multiple doubles lines. You'll need a USTA membership to play in this league. Win or lose, your USTA rating won't be affected from playing matches in this league. If you are interested in this League contact the LLC, Kevin Fichtner at fichtkm@auburn.edu or text his cell phone, 334-538-6526 .
New ball machine for rent at YTC. Rent the machine for $10 an hour. Members may reserve the ball machine in advance. For more information contact YTC 501-2920 or email shill@auburnalabama.org.
No Auburn Stride Walkers until further notice