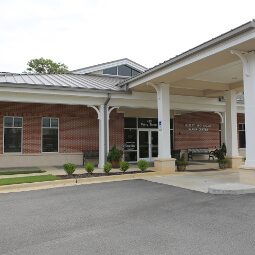 Harris Center
425 Perry St
Phone: (334) 501-2930
Hours:

M-F: 8AM-5PM

Ann Bergman
Public Relations Specialist
Phone: (334) 501-2936
Email: abergman@auburnalabama.org
LeisureLink: The City of Auburn's Parks and Recreation Weekly Newsletter
August 15-21, 2022
Itty Bitty Auburn Scavenger Hunt has begun now until August 31st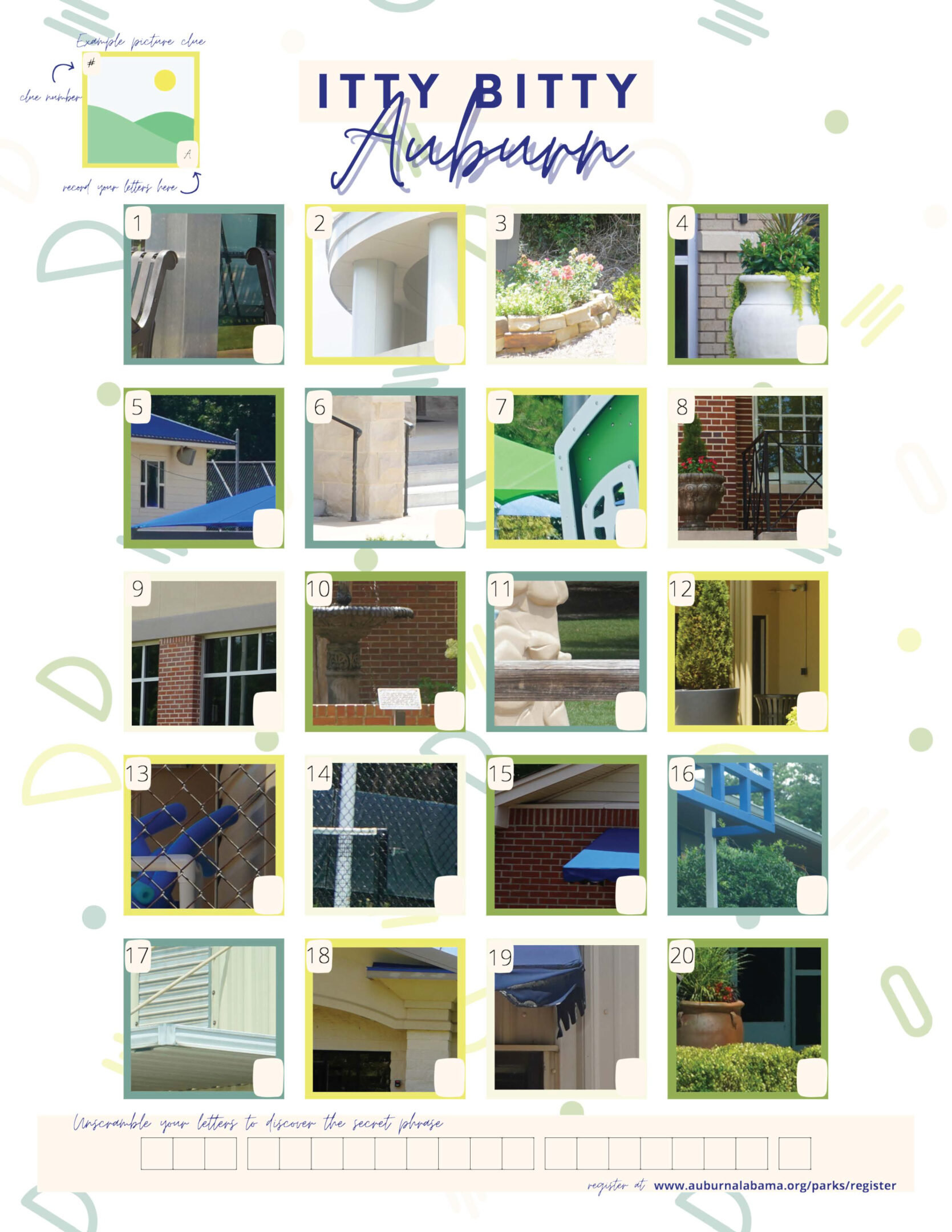 It's time to break out the thinking caps and magnifying glasses for Itty Bitty Auburn in celebration of Alabama's birthday! Beginning Monday, August 1st, participants can pick up a worksheet for the scavenger hunt at any Parks and Recreation facility or find it on the City of Auburn website, printed in select newspapers and on Facebook. The worksheet features 20 itty-bitty sites in various locations around Auburn. Participants will find these sites and find a clue inside each location. A successful scavenger hunt will reveal a special phrase which participants will need to log their win! All participants must "register" by Wednesday, August 31 at 11:59 p.m. Those who compile all 20 clues and discover the phrase will be entered into 5 drawings for Auburn themed gift baskets. Winners will be announced and contacted on Friday, September 9th.
Visit auburnalabama.org/parks/programs/itty-bitty-auburnscavenger-hunt/ for clues and to download your worksheet.
Samford Pool Begins Fall Hours
Samford Pool has new fall hours. From August 1 through September 5 the pool will be open
Recreation Swim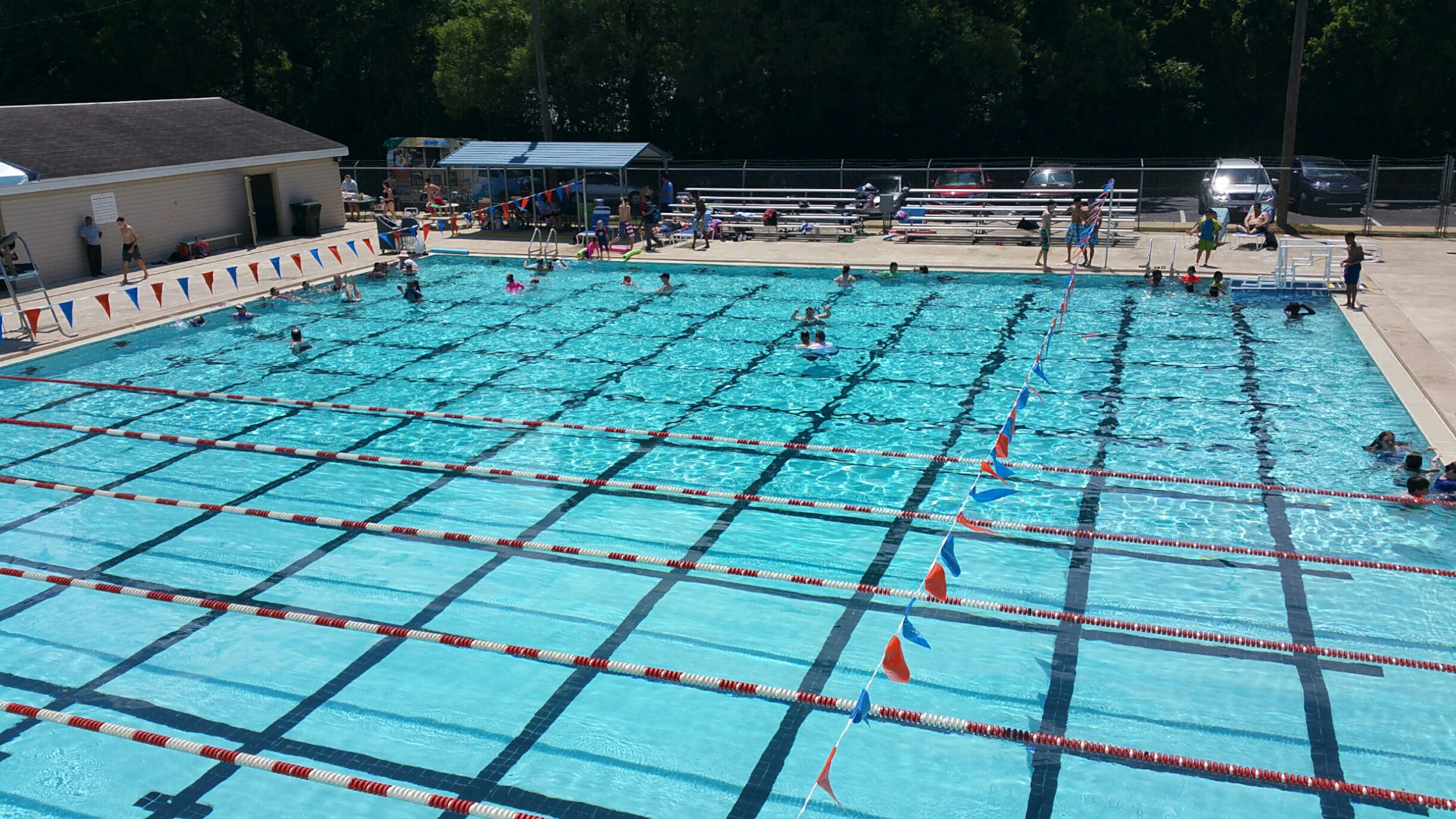 Monday - Friday: 4 - 7 p.m.
Saturday - Sunday 12:15 - 4 p.m.
Lap Swim Hours
Monday/Wednesday: Noon - 1:30 p.m.
Saturday/Sunday 10 a.m. - Noon
Announcements regarding closures, special events, and activities will be made via e-Notifier. To sign up for e-Notifier, visit the e-Notifier page.
Online Registration for fall programs continues through August 24
The 2022 Auburn Parks and Recreation fall brochure is now available in print or online at auburnalabama.org/parks. Printed brochures are available at the Harris Center, the Auburn Public Library and all Auburn Parks and Recreation facilities. Fall program registration end Wed., August 24.
All registration is now online. Visit auburnal.myrec.com to create an account to register for fall programs, fall youth athletics or to reserve a park, pavilion or facility. For more information, call 334-501-2930.
Summer Photo Exhibition at the Jan Dempsey Community Arts Center
"The Summer Photo Show: Pairs," an exhibition featuring works from 20 photographers, is currently on view at the Jan Dempsey Community Arts Center (JDCAC).
This exhibition features pairs of photos that are dissimilar in subject matter or technique, color or black and white, traditional or abstract composition and by other creative means.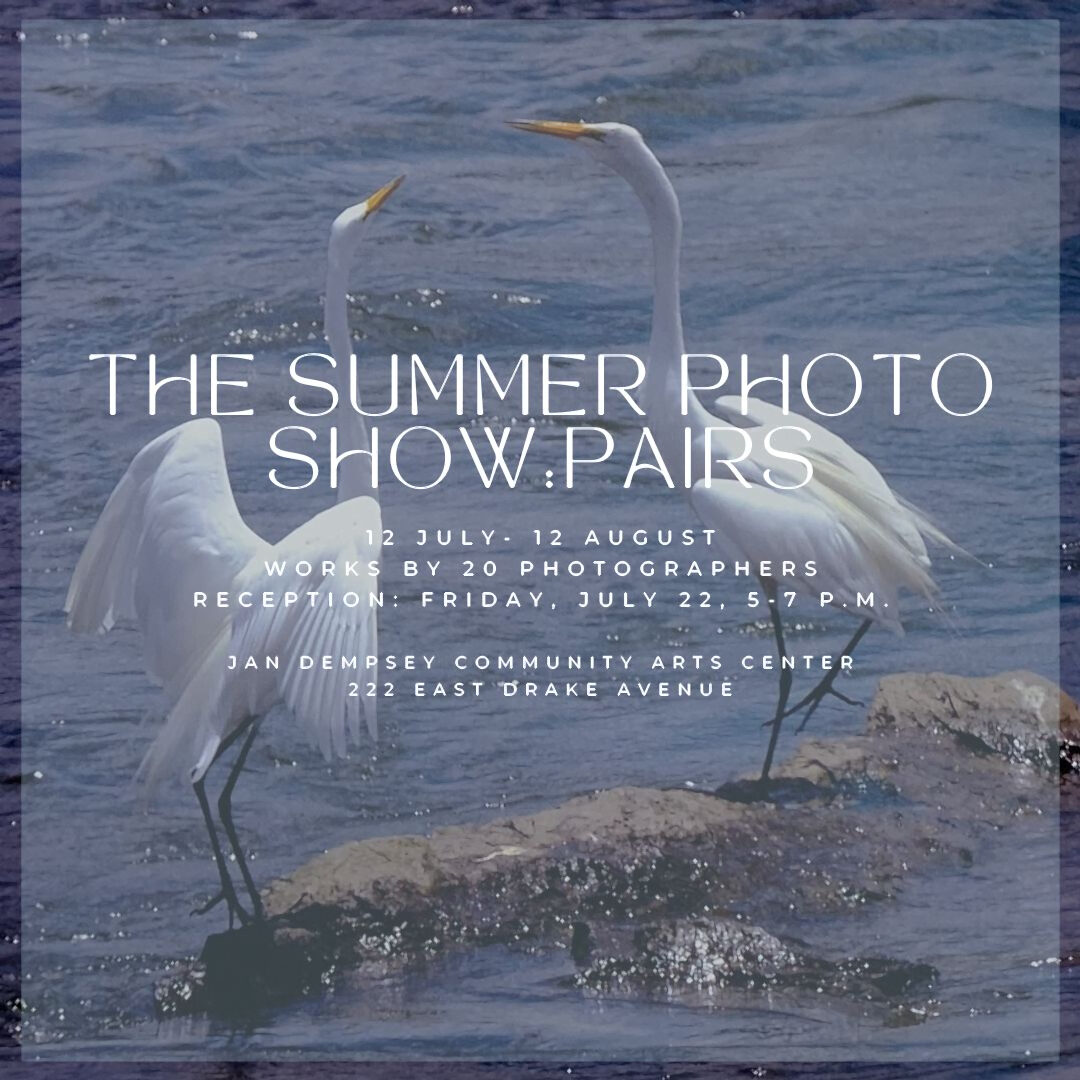 The reception, hosted by the Auburn Arts Association (AAA), is free and open to the public. The Art Gallery is open Monday – Friday from 8 a.m. to 5 p.m. For more information, please contact the JDCAC at (334) 501-2963, follow the AAA on Facebook and Instagram or visit www.auburnalabama.org/arts.
Auburn Parks and Recreation accepting reservation request online
Auburn Parks and Recreation is now accepting facility and park reservation requests online. Those who wish to reserve a facility, athletic facility, or park pavilion can complete their application for request using their online account at auburnal.myrec.com.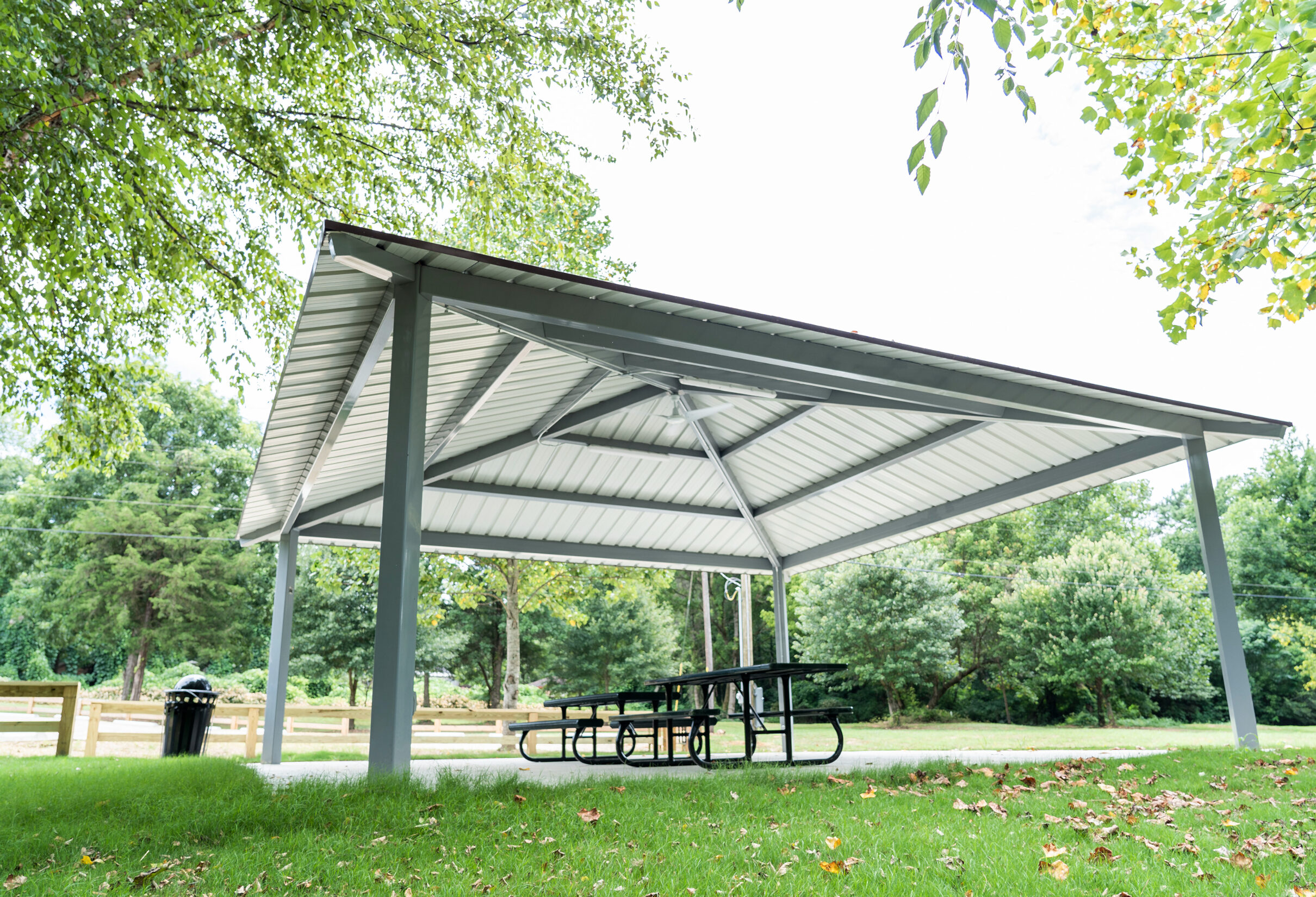 Please make all requests at least two weeks prior to the desired reservation date in order to leave time for the approval process. Requests must be reviewed and approved by the facility director and department director. Once approved, payments can be made online using a credit card or by cash or check in-person at the Harris Center.
Only 2 City Markets left this August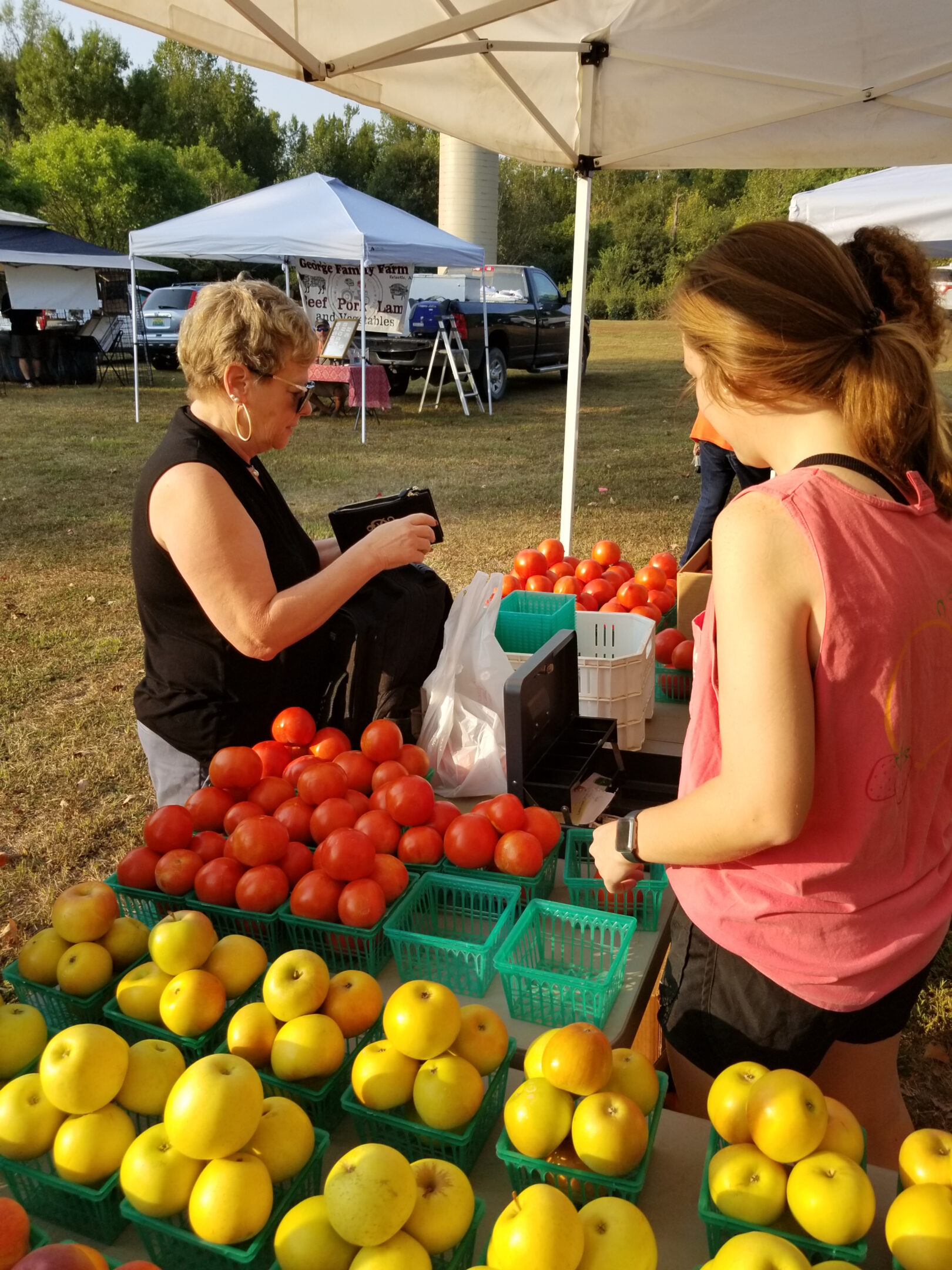 City Market will be held every Saturday from 8-11 AM at Town Creek Park and continue until August 27th. This summer we will host a variety of farmers, musicians, artisans, and non- profits throughout the summer. This years City Market is sponsored by Kathy Powell State Farm.
Parking will be available for all market attendees in the gravel parking lot across from Town Creek Park. All market visitors must maintain a minimum of 6 feet between one another.
For more information regarding City Market, please contact Sarah Cook at scook@auburnalabama.org or visit auburnalabama.org/parks/programs/city-market/
Frank Brown Recreation Center Membership Card Required to play racquetball and free basketball
Auburn Parks and Recreation now requires membership cards for free play basketball and racquetball.
Free play basketball and racquetball at Frank Brown Recreation Center are open free of charge to citizens who live, work or attend school within the city limits of Auburn, AL and to non-citizens for a one-time $25.00 fee. A membership must be acquired for free play basketball and racquetball regardless of age. Replacement cards will cost $25.00 regardless of residency. The membership card is non-transferable and can only be used by the card holder. You must be at least 13 years of age to participate in free play basketball and 15 years of age to participate in racquetball. Children ages 13-18 must have a waiver signed by a parent/guardian at the time of application.
Memberships can be obtained at the Harris Center Mon. – Fri. 8 a.m. – 5 p.m. To view a membership application, including a list of acceptable proof of residency documents, visit auburnalabama.org/parks.
Frank Brown Recreation Center is open Mon. – Fri. 8 a.m. – 8 p.m. Sat. 8 a.m.-11 a.m. and Sun. 1-5 p.m. The Frank Brown Recreation Center is located at 235 Opelika Road. For more information call 334-501-2962.
Frank Brown Membership Application
Dinius Park now open
The public is invited to visit Auburn Parks and Recreation's newest amenity, Dinius Park, beginning Friday, Oct. 15. The new 13-acre passive park — located at 1435 E. Glenn Ave. — includes walking trails, small and large dog parks, a nature playground and a small pond.
The park also includes a restroom building, and a pavilion will be added at a later date. Additional work will take place over the next few weeks, but the park will remain open from sunrise until sunset.
The City of Auburn would like to extend our thanks to the Dinius family who donated the land and funding for the park. The passive park to be enjoyed by the citizens of Auburn will be a culmination of the dreams they had for the land.
Auburn Parks and Recreation launches new Rec. VIP Volunteer Program
Auburn Parks and Recreation invites you to become a Rec. VIP Volunteer! Rec. VIP is a volunteer program for individuals age 19+ who are interested in helping with programs and events offered through Auburn Parks and Recreation.
The Rec. VIP program strives to improve the quality of life for all citizens by involving volunteers who offer their time, effort and skills to enhance the City of Auburn. The program incorporates volunteers into all facets of the organization including athletics, Special Olympics, therapeutics, 50+ programs, special events, cultural arts, and park cleanup.
Rec. VIP Volunteers will receive a free t-shirt each year, a quarterly newsletter with upcoming volunteer opportunities, as well as recognition and appreciation events.
For more information or to apply to become a Rec. VIP Volunteer, contact Gabby Filgo at gfilgo@auburnalabama.org or visit www.auburnalabama.org/parks.
Yarbrough Tennis Center Updates
Check out the Spring 2022 Auburn Parks and Recreation's Fall brochure for information about tennis clinics. Auburn Parks and Recreation offers tennis clinics for children and adults. For more information visit www.auburnalabma.org/parks to view the brochure online or contact Sarah Hill at shill@auburnalabama.org if you have additional questions.