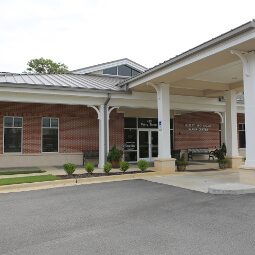 Harris Center
425 Perry St
Phone: (334) 501-2930
Hours:

M-F: 8AM-5PM

Jarrett Jones
Recreation Center Manager
Phone: (334) 501-2941
Email: jyjones@auburnalabama.org
Auburn Parks and Recreation hosts several options for outdoor movies throughout the year.
Friday Fright Night Movie at the Arboretum
Something wicked this way comes...
Fright Night at the Arboretum is back in 2020! Join us on Friday, October 23rd for the Fright Night Movie! An evening of spooky movies to get you in the mood for Halloween, there's plenty for everyone!
*COVID-19 note* Mask are required while entering and exiting the Arboretum also when you leave your designated seating area. Seating areas will be clearly marked to ensure social distancing.
Gates open at 6:00 p.m. Kid-friendly Halloween cartoons will be shown at 6:30 p.m., followed by our first feature Little Shop of Horrors (1986 version) at 7 p.m., and at 9 p.m. The Rocky Horror Picture Show (1975).
Patrons are encouraged to bring blankets, chairs and picnic dinners to enjoy the movies. Parking is available near the entrances on three sides: along Lem Morrison and the Poultry Science parking lot, along Garden Drive and in the Arboretum parking lot off Garden Drive. Patrons are encouraged to carpool or walk. This event is FREE and open to the public.